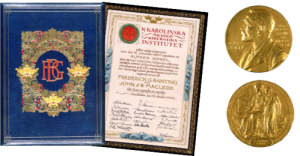 A picture documentary about the 1923 Nobel Prize in Physiology or Medicine
The history behind the 1923 Nobel Prize "For the discovery of insulin" offers both interesting information and learning. Wthout doubt the discovery of insulin was of such stature that it deserved a Nobel Prize. The time between the discovery and the award in 1923 i.e. by now 100 years ago, is as far as can be judged the prize where the time between the discovery itself and the announcement of the Nobel Prize is the shortest.
The discovery was made in the summer of 1921, the first patient was treated in January 1922, and the first publications written by those awarded the prize appeared in the same year. The prize is not only the fastest awarded prize in the Nobel context, but also one of the most debated. The discussion has always revolved around who should rightfully have shared the credit for this very significant discovery.
The attached documentary describes, seen from today's perspective, the problems that were associated with this Nobel Prize. In a first section, the development of knowledge about diabetes up to the beginning of the 1920s is summarized, after which the evaluation of the Nobel activities at the Karolinska Institutet is scrutinized. In conclusion, the gaze was fixed on recent advances which were based on the discovery of insulin and which were of great importance for the treatment of diabetes.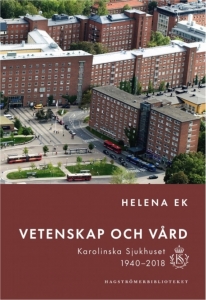 A History of Karolinska University Hospital "Vetenskap och Vård"
A publication from 2021 about KS and the clinical research and discoveries made over the 50 years since it became a national hospital is now available
About Wikiki
Karolinska Institutet Solna Campus has undergone dramatic changes, peaking with the move from the old buildings into the new Biomedicum building during the spring of 2018. The architecture of our original Campus was formed according to the prize winning plan named "Per Haps" from 1937, by Ture Ryberg . The construction of the original Department buildings took place during 1938–1957. Since then the Campus has been rebuilt three times.
Wikiki is a project initiated to cover the different phases of our Campuses history from the 1940's up until today. The project has been launched by some of the researchers that moved into to the new Biomedicum building in April 2018. We will assist in taking care of historical items, documentation, photographs and movies from the last 70 years. We will also ask colleagues to write essays about the different successful research environments, as well as the scientists and other staff that have been active at our campus.
The WikiKI.se website will be used to collect these essays, documentation and photographs.