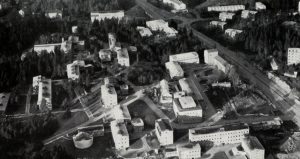 Karolinska Institutet Solna Campus has undergone dramatic changes, peaking with the move from the old buildings into the new Biomedicum building during the spring of 2018. The architecture of our original Campus was formed according to the prize winning plan named "Per Haps" from 1937, by Ture Ryberg . The construction of the original Department buildings took place during 1938–1957. Since then the Campus has been rebuilt three times.
Wikiki is a project initiated to cover the different phases of our Campuses history from the 1940's up until today. The project has been launched by some of the researchers that moved into to the new Biomedicum building in April 2018. We will assist in taking care of historical items, documentation, photographs and movies from the last 70 years. We will also ask colleagues to write essays about the different successful research environments, as well as the scientists and other staff that have been active at our campus.
The WikiKI.se website will be used to collect these essays, documentation and photographs.